"I DON'T REMOTE CONTROL THE GOVERNMENT"
It's not often that a Pakistan politician sits down for an interview and refrains from what is a favourite topic—India-bashing. Asif Ali Zardari is the exception. The 52-year-old co-chairman of the Pakistan People's Party (ppp) spent much of a 90-minute interview (
watch interview
) with me for Aaj Tak tv channel talking about completing Benazir Bhutto's unfinished task and the need for strengthening Indo-Pak relationship. Excerpts:
Q. How much has your life changed after Bibi's untimely death?
A. Not just my life has changed, but that of Pakistan and also of the world has changed. As long as she was around, I had no worries. She was there to take care of everything.
Q. You were in jail for almost 11 years. You both were fighting, Bibi from outside and you from behind the bars.
A. Yes, we were together in our fight. Even today, I feel she is very much around, in spirit.
Q. In my last interview with her, Bibi told me, "I know that my life is under threat but I'm going to Pakistan just for the sake of democracy. My biggest task will be to end military rule". She sacrificed her life to restore democracy in the country. But even six months after her death, military rule is not yet over.
A. Her sacrifice will not go waste. We are working towards restoring democracy. Military rule is there but it is not Pervez Musharraf who is holding any such post.
Q. People of Pakistan elected both the pml-n and the ppp with this hope. Both of you were for his removal. So why is it taking so much of time?
A. Unlike India, we never had a coalition government. This is the first-time for us. Both the parties have almost equal number of seats. Even if we combine together, we will still fall short of the required number to oust him. We don't even have the support of other parties.
Q. Have you set any time frame for Musharraf's ouster?
A. Politicians seldom stick to deadlines. But we will pack him off soon.
Q. You are the working president of the party though your son Bilawal is the chairman. Why so when you could have done it yourself?
A. We have chosen Bilawal because he is our future, he is our present. Our new slogan: Bhutto ki tasveer Benazir, Benazir ki tasveer Bilawal (Benazir is Bhutto's image and Bilawal is Benazir's). Bilawal is our future. I am just a trustee of Benazir's legacy.
Q. People say you are Pakistan's Sonia Gandhi. Like she controls the Government from 10, Janpath in Delhi you do the same from Bilawal House in Karachi.
A. No, I don't try and control the Government from Bilawal House as most of the time I am in Islamabad. "Soniaji is a great leader and I am trying to learn the nuances of democracy from her, no doubt. She is my role model." And if I had to control the Government, I could have very well become the prime minister. I had the option of taking up the post but I chose to manage the party instead. It is a greater responsibility.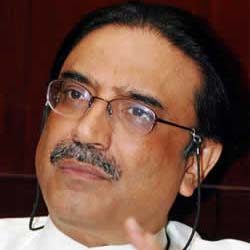 Q. In last 100 days, you haven't done anything substantial to speed-up probe in Bibi's assassination.
A. Here in Pakistan, I see a larger conspiracy behind her assassination. I just don't want to find out who killed her, but my sole motive is to let the world know what her death could lead to. It could lead to Balkanisation of Pakistan which would mean Balkanisation of the entire region.
Q. It was believed that Bibi was a staunch supporter of the US. And she was eliminated entirely for this reason. She was a target of the fundamentalists, so do you think you are also influenced by America?
A. We have sought the support of all political parties to restore democracy in the country. America, Britain and India, all are democratic forces. Bibi went to all such countries and her visits acted like a catalyst which in turn was of great help in the longer run. She ruled even though she stayed away from the country.
Q. Is ppp soft on the US, like Nawaz Sharif pointed out a few days ago? Do you agree that the US is interfering a lot in your domestic matters?
A. America is an ally. Taliban was a problem and will be a problem. We have to fight them out and we are trying our best to oust them. We may have to talk it out or have to fight with the fundamentalist forces. We might have to motivate them and bring them into our fold.
Q. Why don't you forget Kashmir for a while? Why should India and Pakistan fight over it?
A. We can't forget Kashmir. Like you, we also want an amicable solution to this problem. We want to talk out this issue. We want trade. Think of it, both India and Pakistan together can become superpower.
Q. For confidence building measures, India feels that Pakistan should dismantle its terror camps in Kashmir and stop interfering in its domestic matters. Will your government do so?
A. Neither we interfere in anyone's matters nor we like others to interfere in ours'. We are against terrorism.
Q. Sharif said that visa should be abolished. Will you support him?
A. If he brings this Bill in Parliament, we have enough majority to promulgate it.
Q. To improve trade, why don't you give any preferential treatment to India?
A. We are willing to give preferential treatment and want the same in return. We want India to play the role of an elder brother in the subcontinent. Pakistan can very well become a catalyst for India's progress. If India and Pakistan unite, we will undoubtedly become a force to reckon with.Now, five rapid-fire questions:
Q. Who is your friend, Sharif or Musharraf?
A. Nawaz Sharif.
Q. Who do you hold responsible for Kargil fiasco?
A. It is history's ex-factor and I hold both of them responsible for it.
Q. Will you ever be able to arrest Bibi's assassins?
A. Bibi, in her book, had written that her death would become the catalyst for change. We will certainly get hold of them, but we want to change the nizam (system) of Pakistan.
Q. Would you like to become the prime minister of Pakistan?
A. I will not say that I will never become one, but surely will try not to.
Q. Will you join hands with China to procure weapons or befriend India to become an instrument in Pakistan's progress?
A. I would like Pakistan to progress for which I would not mind being friends with both India and China.