The Making of the Prime Minister
By winning the trust vote, the Prime Minister has acquired political legitimacy—at last. Can Manmohan Singh, as a newly minted politician and a popular Congress brand, sustain the momentum?
The prime minister may invoke the visionary leadership of Sonia Gandhi and the future hope called Rahul but will the First family of Indian politics cherish the prospect of a power trinity?
Read .
..
IT/August 4, 2008
BJP is
'Bharat Jalao
Party': Amar Singh
A
nybody who was opposed to the national interest was defeated during the trust vote. The party which played the dirty game was BJP
.
watch
video
Aajtak, July 27, 2008

Sonia Gandhi: Impossible is nothing in race to power

NECESSITY is the mother of all initiatives. Nine years ago, Sonia Gandhi's office kept Amar Singh waiting for an appointment he had sought with her and he never forgave her. He persuaded Mulayam Singh to back out from a promise to back her for prime ministership on the fall of the Vajpayee government in 1999, and made nonsense of her famous "Igot 272" claim. Since then the two side
s have been daggers drawn, both politically and personally.
read....

AMAR SINGH: The day of the DEALMAKER
Power, at its most deceptive level, is an absence. At 27 Lodhi Estate on a Tuesday morning, it is an absence accentuated by the stillness of gilded kitsch and other objects that give an idea about the aesthetics of the res
ident. He likes his own image, an immaculately suited gentleman leaning against the wall on the arty South Bank, the Thames and the London Eye forming a perfect backdrop. Providing company to this framed piece in the drawing room are sundry gods and exotic warriors in metallic splendour. The man himself is elsewhere, in another room with a colleague, certainly not discussing the weather, and the waiting visitor in the meantime is being attended by a young female receptionist with the ease of an air stewardess.
read
.....
Amar Singh
:
"Mayawati, Modi, Advani more lethal than Bush"
The Samajwadi Party (SP) will contest the forthcoming elections under the leadership of Manmohan Singh, says general secretary Amar Singh
.
read.....
Nuclear Deal: Securing the FUTURE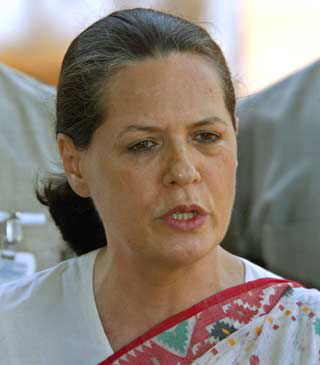 By tying up with the Samajwadi Party,
Sonia Gandhi
is looking beyond the Nuke deal to safeguard her political future which depends on how important a role she will get to play after the next elections.
read....